【Nov.8〜9】Tokyo American Club International Bazaar: Holiday Marketplace
November 2, 2021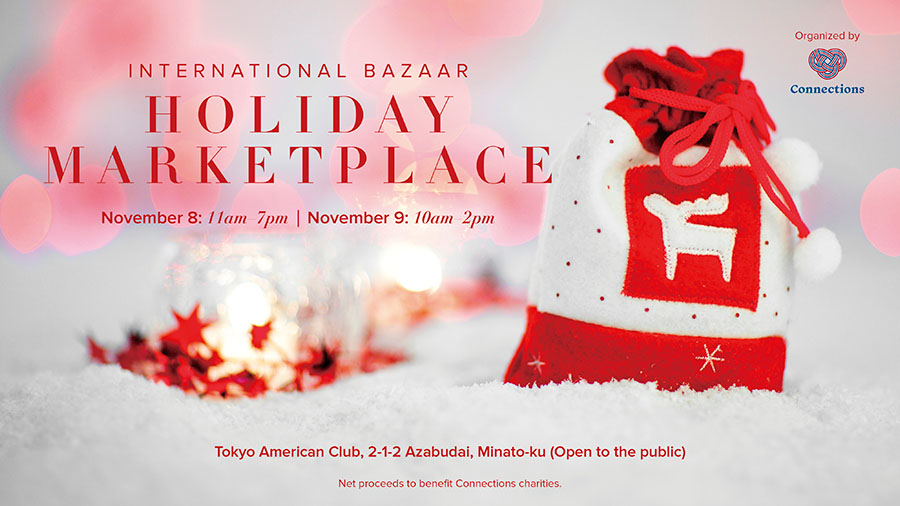 Monday, November 8 and Tuesday, November 9, ARK will participate in the Tokyo American Club's International Bazaar: Holiday Marketplace!

A long-time supporter of ARK, the Tokyo American Club will be hosting this event to ring in the holiday season. From home goods and art, to traditional Japanese crafts and handmade jewelry, around 50 vendors will be brought together to sell their various goods at this market.
This two-day event is open to the general public and welcomes all guests! ARK will be selling 2022 calendars as well as other original goods, so please feel free to stop on by and show your support.
Please ensure you wear a mask at all times and take extra precaution to prevent the spread of COVID-19. Please also note that baby strollers are not allowed in the venue.
For more information: https://www.tokyoamericanclub
Date: Monday November 8, 11am to 7pm
          Tuesday November 9, 10am to 2pm
Location: Tokyo American Club, 2-1-2 Azabudai, Minato-ku, Tokyo 106-8649
Closest stations:
Tokyo Metro Hibiya line, Kamiyacho station, Exit 2
東京メトロ日比谷線「神谷町駅」2番出口
Tokyo Metro Nanboku line, Azabu-juban station, Exit 3
東京メトロ南北線「麻布十番駅」3番出口
Toei Oedo line, Azabu-juban station, Exit 6
大江戸線「麻布十番駅」6番出口
Toei Oedo line, Akabane-bashi station, Nakanohashi exit
都営地下鉄大江戸線「赤羽橋駅」中之橋口