ARK Panel Exhibition and Adoption Fair @ Toyota Corolla Kobe
April 7, 2022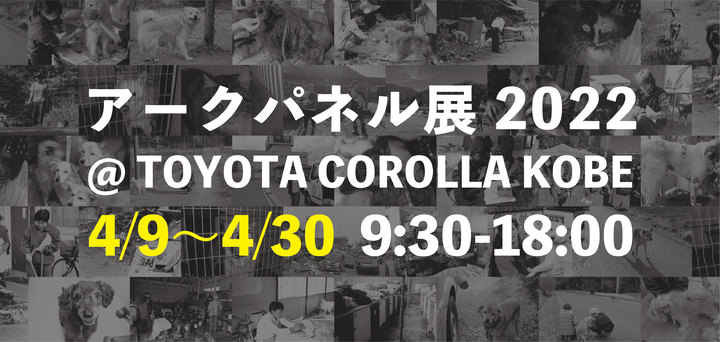 Thank you for your continuing support.

2022 marks the 32nd year since our foundation. With digital archiving of our history going ahead at full steam, the timing sees right to give everyone a glimpse of our activities over the years.

Thanks to Toyota Corolla Kobe we will also hold a special adoption fair on Sunday, April 10.
We've been hard at work for over three decades, but there are always more animals to be rescued.
They come to us for a plethora of reasons – some have escaped from fire, others from neglect or cruelty, some have fallen victim to natural disasters.
Many animal welfare organizations are now trying to raise the bar, but there is more work ahead. Attitudes need to be changed amongst both owners and rescuers.
We hope our exhibition will inspire you to join us in helping the animals of Japan.
【Panel Exhibition】
Date: Saturday, April 9 – Saturday April 30
Time: 9:30-18:00
Location: Daihatsu Wing
*Please check holidays here .
【Adoption Fair】
Date: Sunday, April 10
Time: 13:00-16:00
Location: My Car Center
*ARK goods will be available for purchase.


Venue: Toyota Corolla Kobe Tamba Sasayama
Address: 568-1 Ajimashin, Tamba Sasayama, Hyogo Prefecture
Dogs Attending